Stéphanie Cardinal
President, Humà design inc. Vice president, Humà architecture inc.
Passionate about her art, Stephanie believes that creation, story of the location and the people's story are the very pillar of the architecture and design project. Known for her creativity and her originality in the elaboration of her unique concepts, she has made a significant place for herself in the realization of projects where the production and identity become signatures and worlds. Her collaborations with a multitude of designers, added to the different fields related to those projects, are giving her the professional expertise to guide and realize projects at home or internationally, in which the quality of the architectural spaces and design unite. Proud of her expertise, she has more than 20 years of experience in the field.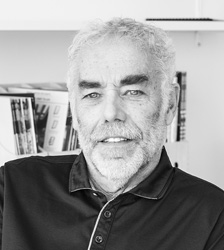 Aurèle Cardinal
President Humà Architecture inc.
Aurèle Cardinal has earned an enviable reputation in the field of urban planning. Known for putting forward innovative projects, he reinvents the approach of the place and contributes to the realization of facilities and architectural concepts that make their mark. He trained a generation of urban designers during its nearly thirty years of teaching at the Faculté de l'aménagement de l'Université de Montréal, and as a visiting professor at Harvard and Columbia universities in the United States, and the l'École d'architecture et à l'Institut d'urbanisme de Paris. Aurèle Cardinal is often asked to advise municipalities, regional bodies and development companies in urban regeneration projects or urban design that transform the city. In order to diversify his skills, Aurèle Cardinal hired his firm in the management of local projects in Quebec and some major projects abroad.